Calabrio Software develops and markets customer interaction software, workforce optimization software and business intelligence software. By integrating workforce optimization within the team's daily workflow, Calabrio helps customers align their Contact Center business processes with their business objectives. 
Consilium alliance with Calabrio helps us to enhance the value we provide to our customers by continuous business improvement in the Contact Center. Calabrio ONE simplifies operations, improves agent performance, and elevates customer experiences. It captures and connects all your contact center data in a single interface with embedded analytics so you can quickly turn insights into revenue-boosting action.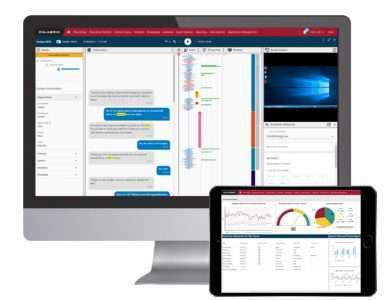 Consilium
Advantages:
We are global implementation partner for Calabrio One v11.5 with certified engineers to design latest intelligence suite, uncovering insights to improve the customer experience (CX).
Calabrio ONE combines workforce optimization software into one comprehensive and integrated software suite that's easy to implement, use and maintain.
Calabrio ONE includes call recording, quality assurance, workforce management, speech analytics and performance-based dashboards and reporting.
The Calabrio ONE suite is built on a modern Web 2.0-based architecture that allows the Contact Center to integrate new applications easily, as well as personalize and optimize the desktop toolset for each user such as agents, supervisors, managers, knowledge workers and executives.
Schedule A Consultation with our experts